We know that Xiaomi offers a multitude of different products in its ecosystem, many of them even offered under its sub-brands, as is the case with Mijia.
The company has just started crowdfunding a special T-shirt called Mijia Sports ECG, which, as its name suggests, brings a built-in electrocardiogram sensor as a differential.
Offers available through the financing platform open on August 5th, with prices starting at CN ¥ 249 (~ R $ 190) – the value of the product in store will be CN ¥ 299 (~ R $ 228).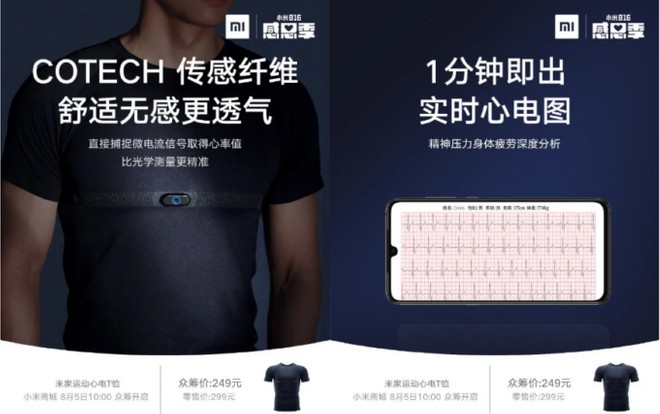 The COTECH sensor, inserted in a tissue band near the chest, is capable of offering a real-time measurement in just 60 seconds, and can be paired with wearable devices via the Xiaomi Wearable app.
At the center of this range is a sensor capable of monitoring heartbeat, which lights up in various colors and emits vibrations to provide feedback to the user.
Mijia, which should soon be called Xiaomi Smart Life, for easier recognition by the public outside China, is unlikely to sell this product in markets other than its homeland.
It is important to note that the t-shirt is for exclusive use in sport, that is, it cannot be used as a medical device.