For the last time this season, Liverpool can only hope that their international players will return healthy, but why don't the Reds play on the weekend?
For some, the fact that Liverpool will not play for 17 days may be a welcome respite from the roller coaster of emotions that Jurgen Klopp's side dish evokes in every game.
You'll never get what you get from the Reds, and after two consecutive 1-0 defeats, we won't see Liverpool in action until April 1, when they travel to Man City.
Why is there no game this weekend?
For this, we need to thank Fulham — well, Liverpool, who were eliminated from the FA Cup.
The Reds were supposed to host the Cottagers on Saturday at 15:00, but it was postponed due to their participation in the FA.
Marco Silva's team has booked a place in the quarter-finals of the FA Cup, which is due to take place next weekend, which means that the match at Anfield had to be postponed.
Instead, Fulham will travel to Old Trafford on Sunday to fight for a place in the semi-finals.
The postponement of the Premier League match means that the trip to Real Madrid was Liverpool's last game in 17 days, and the international break followed the weekend.
As for when this schedule can be changed, the opening will take place in the middle of the week on Wednesday, April 12, but if this does not happen, the next likely slot will be the beginning of May.
In any case, it will be an evening start!
4 top photo
While the Reds' break starts earlier than the others, the battle for the top four will continue to change before they lace up their cleats and focus on their last 12 games.
Klopp's team is currently six points behind fourth-placed Tottenham with the game in reserve, so let's see how the table might change before we get back to Man City:
Newcastle at Forest – the win moves the Magpies five ahead of the LFC with the same number of games played.
Spurs at Southampton – victory puts Tottenham nine ahead of LFC, having played two more games.
Brentford hosts Leicester — the victory of the Bees allows them to be two ahead of Liverpool, having played one more game.
Chelsea hosts Everton — Chelsea's victory reduces the gap to Liverpool to two points, but they will play one more game.
Fulham and Brighton will play in the FA Cup
Thus, if Newcastle, Tottenham, Chelsea and Brentford win their respective games this weekend, Liverpool will return to the championship in seventh place and will have at least one game left in three of four.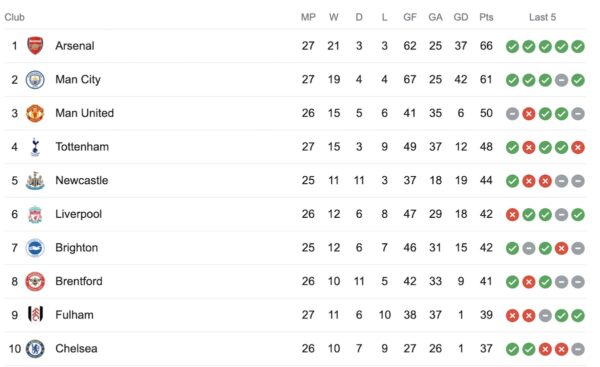 However, when April 1 comes, the pressure will immediately increase: Man City, Chelsea and Arsenal will play the first three matches in just nine days.
The defining period for Klopp, who said: "When we come back after the international break, we have a real football week ahead of us, I would say, with three games: City, Chelsea and Arsenal, which will then probably determine what we get. out of it."