Savannah Chrisley was really outspoken in all her feelings and some worries related to the arrest of her famous parents, the trial and, eventually, imprisonment on a variety of fraud-related charges. In the absence of Todd and Julia Chrisley, Savannah will take care of her brother Grayson and niece Chloe. She is also working to come to an agreement and deal with the anger over what happened. Now in a new post, she says she's trying to "trust the process."
Savannah Chrisley logged into her Instagram Stories account to share what looks like her refrigerator and morning coffee. The refrigerator itself is covered with Bible verses about "peace" and "power". Against these messages of moving forward, Chrisley shared a look at her morning cup of Joe that reads, "trust the process."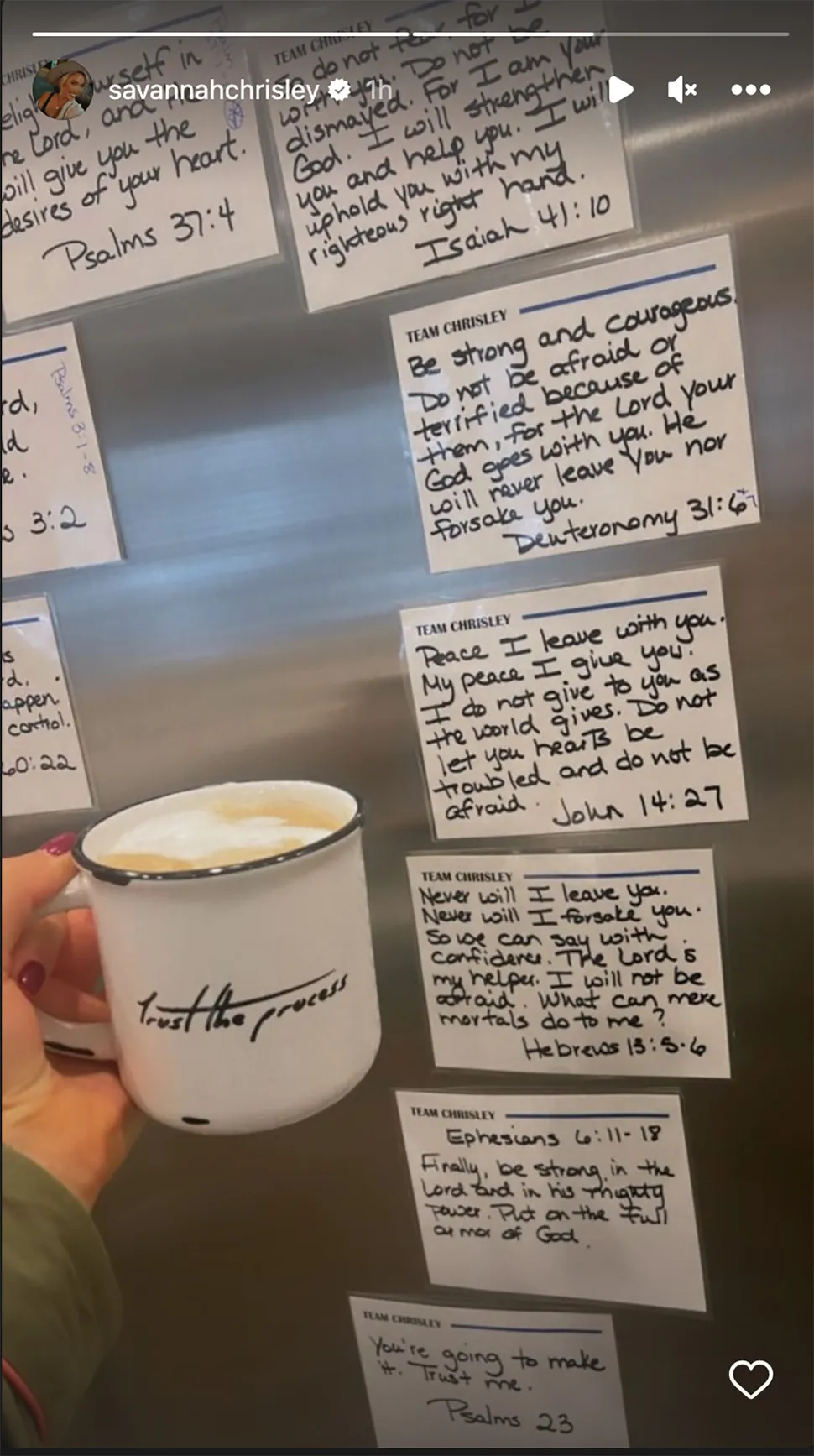 This is a big change for the star, as in recent weeks Savannah has been very open about her feelings. In fact, just a few weeks ago she was talking to her mom before she went to jail. In the podcast chat, Julie really seemed to be in pretty good shape after a seven-year sentence and an impending prison sentence. In fact, she said on the "Unlocked" podcast that her problems with the law "put me in that perspective, and so I think it can either harden you or, in my case, do the opposite." On the other hand, Savannah said she only felt anger after her parents' legal troubles.
Honestly, you're handling it better than I am.… I have never seen two people, you and Dad, so deeply immersed in prayer, religion, Christianity and God. And be disappointed, but continue to believe. I'm at a point in my life when someone asked me to touch it – I touched it lightly in my first episode — there it was, I said: "I'm so angry with God." why do you let bad things happen?
Savannah's parents were convicted last year of various offenses, including being found guilty on charges including bank fraud and tax fraud. After the stars of Chrisley Knows Best asked for leniency, Todd Chrisley was sentenced to 12 years in prison, and his wife received seven years. She is serving her sentence in the same prison in Kentucky, where the criminal Jerry Harris is also serving time. Todd, on the other hand, surrendered to a prison in Pensacola, Florida.
The Chrisleys spent their last few days at large with their family and running errands before they both went to jail on January 17. As for Savannah, she has openly stated that she is trying to "accept everything as it is" as she adjusts to her new reality. . Meanwhile, the stars' lawyer Chrisley Knows Best is optimistic about the prospects of their appeal, and Savannah's expression "trust the process" also seems to be a hint of this, along with working on her own feelings.