It was claimed that a processor named Apple B14 Bionic was produced for the iPhone SE 2. This iPhone model is said to be home to a 4.7-inch screen produced with an LCD.
The iPhone SE 2, which is stated to be released in the first quarter of 2021, may not be alone. It is said that this processor will also power the iPhone SE 2 Plus.
What can iPhone SE 2 do with the Apple B14 Bionic processor?
As it is known, it was announced that the A14 Bionic processor designed by Apple will accompany the iPhone 12 series. It is known that the US-based technology giant has rolled up its sleeves to expand its field of work on the processor.
A Twitter user named "Mauri QHD" does not know whether the processor named B14 Bionic will consume less battery and will be less powerful than the A14 Bionic in terms of performance. According to him, this processor can also power other models such as iPhone 12 Mini, SE 2 Plus and SE 3.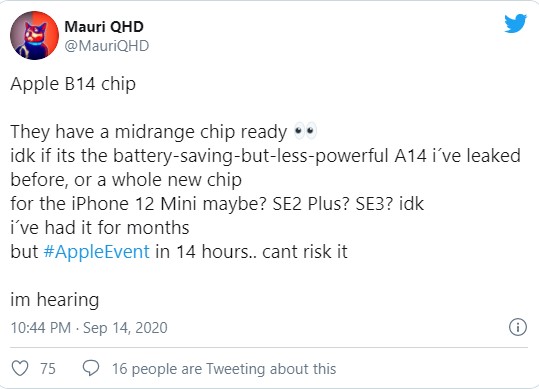 It is not unusual to use a processor that is weaker than the processors used in older models in a new smartphone model. Announced with a screen size of 5.4 inches and also called iPhone 12 mini, the iPhone 12 can also be equipped with the Apple B14 Bionic.
In the first months of 2021, we can meet the 4G-based iPhone 12. It is thought that the iPhone SE 2 Plus will be inspired by the design prepared for the iPhone SE 2020 and will be available for sale in 2022.
What do you think about this topic? We are waiting your comments.