This summer will be crucial for Liverpool after a campaign that can be forgotten. So who should stay and who should move on?
Outside the FA Cup, outside the League Cup, 10th place in the Premier League.
With 18 league games and 11 points separating them and the top four, it may well be that the 1/8 Champions League final match with Real Madrid represents Liverpool's only hope of saving the 2022/23 season.
It's a pathetic reality, but one that — the fight for the silver lining—could lead to a team overhaul that may have been needed for some time.
With six players out of contract and two regulars entering their final 12 months at the end of the season, as well as question marks over a number of others, an upgrade may be just around the corner.
Here we will look at which of the players should stay and who should leave.
Long-term options
Despite all the talk that this is a team that is over the hill, there is a growing core of players who can be considered as such both now and in the future.
In recent years, Liverpool have moved to bring in Ibrahima Konate, Diogo Hota, Luis Diaz, Cody Gakpo and Darwin Nunez for major deals, and they resemble key figures moving forward.
It's the same with some of the players who have been first in the starting lineup so far during the successful years under Jurgen Klopp, namely Alisson, Trent Alexander-Arnold and Andy Robertson.
Robertson's role may diminish over time as the Scot turns 29 in March, but he remains a vital player and one of the best left-backs in Europe.
If possible, Liverpool should retain the services of Kaoimhin Kelleher as Alisson's long-term successor, as well as a valuable homegrown player alongside Curtis Jones and Harvey Elliott.
Calvin Ramsay has not yet started working after his move from Aberdeen last summer, but he was clearly a subscriber to the project, which will be given time to develop.
In addition, there are young people around whom Klopp and his team can build a team, and Stefan Baisetic is now the main one among them.
Naturally, it is more difficult to predict who will come out on a permanent basis, but Ben Doak has already shown strong signs at an early stage, and great hopes are pinned on Bobby Clarke and Kayde Gordon.
Marcelo Pitaluga and Harvey Davis could offer homegrown goalkeeping options, and they are trained from a young age to match the required style.
Of those who have returned from loan this summer, Tyler Morton seems the most likely to take a place in the first team.
Saved as part of the transition
While the temptation, at least among disappointed fans, would be to carry out an almighty purge in the summer, the reality is that some players remain important to the club during the transition period.
For example, Virgil van Dijk, Tiago and Mohamed Salah are already over 30, but they still deservedly play in the starting lineup.
A decision on Thiago's future will need to be made this summer as the Spaniard approaches the final year of his contract.
He will be 33 by the end of next season, while Van Dijk and Salah have reached that age before their contracts expire a year later — this may be the right moment to part ways with at least Thiago and Salah.
The same can be said about Fabinho, although any commitment to the Brazilian, with whom a contract is signed until 2026, will depend on the ability to restore his condition after an alarming downturn.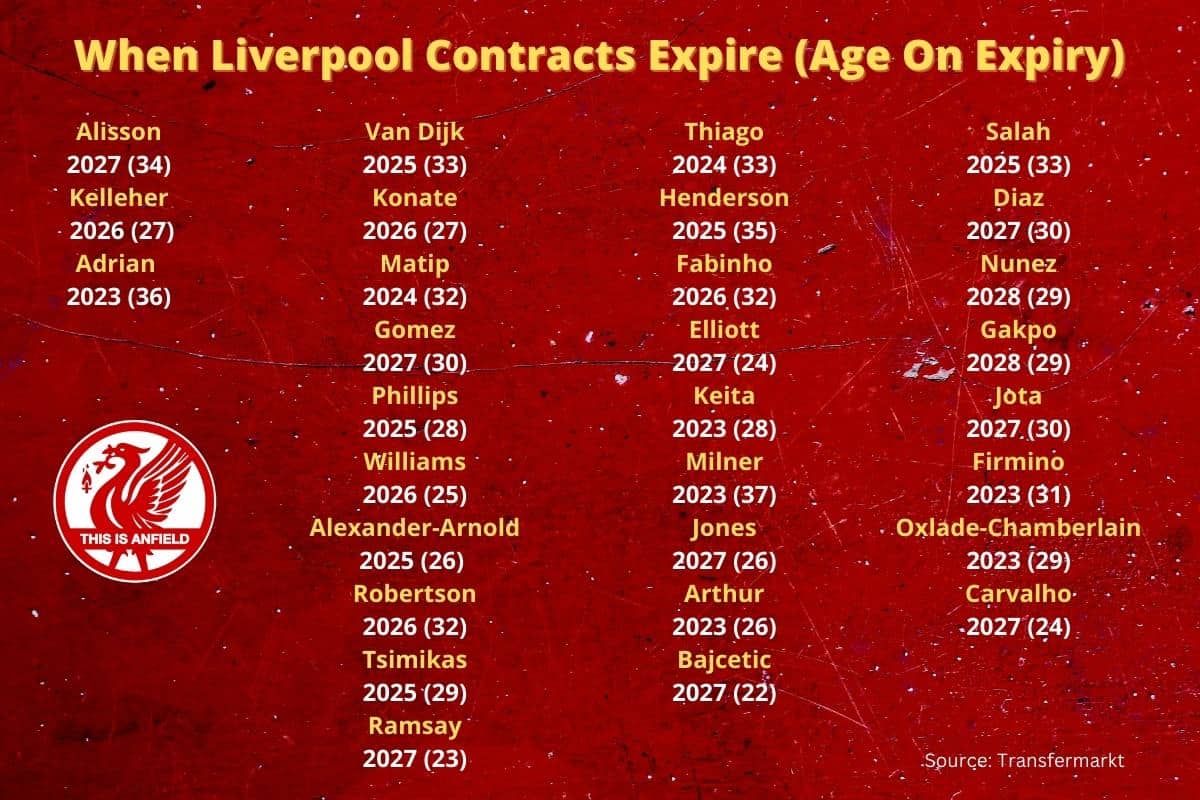 As for the younger players of the team, their short-term future should remain at Anfield, and if no progress is made, a call needs to be made.
This group includes Joe Gomez, who is tied up until 2027, when he turns 30, and Kostas Tsimikas, whose terms expire in 2025, when he will be 29 years old.
Fabio Carvalho's stuttering start may even lead to the young Portuguese not being able to establish himself as a long-term option.
Available to leave
After a uniquely difficult season, in which Liverpool may well find themselves in the middle of the Premier League table, difficult decisions will need to be made.
This should include an assessment of Jordan Henderson's position, as his waning influence on the field is of serious concern, given that he signed a new four—year contract in 2021 – when it expires, he will be 35 years old.
Joel Matip, meanwhile, is in the same situation as Thiago, facing the prospect of being sold this summer or getting a contract extension that expires in 2024.
By then, he will still be a month away from his 33rd birthday, and he is not a long-term option that Van Dijk could look like moving forward.
Six players are already at a crossroads as their contracts expire in July, and it makes sense that Naby Keita, Alex Oxlade-Chamberlain, Adrian and Arthur are leaving.
When it comes to James Milner and Roberto Firmino, there will be more attention, and it may happen that this time the head prevails over the heart.
In addition, it seems likely that long-serving central defenders Nat Phillips and Rhys Williams have been granted permanent transfers.
Sepp van den Berg and Leighton Clarkson could also be allowed to leave for a substantial fee after their loan spells at Schalke and Aberdeen.
Who stays and who leaves?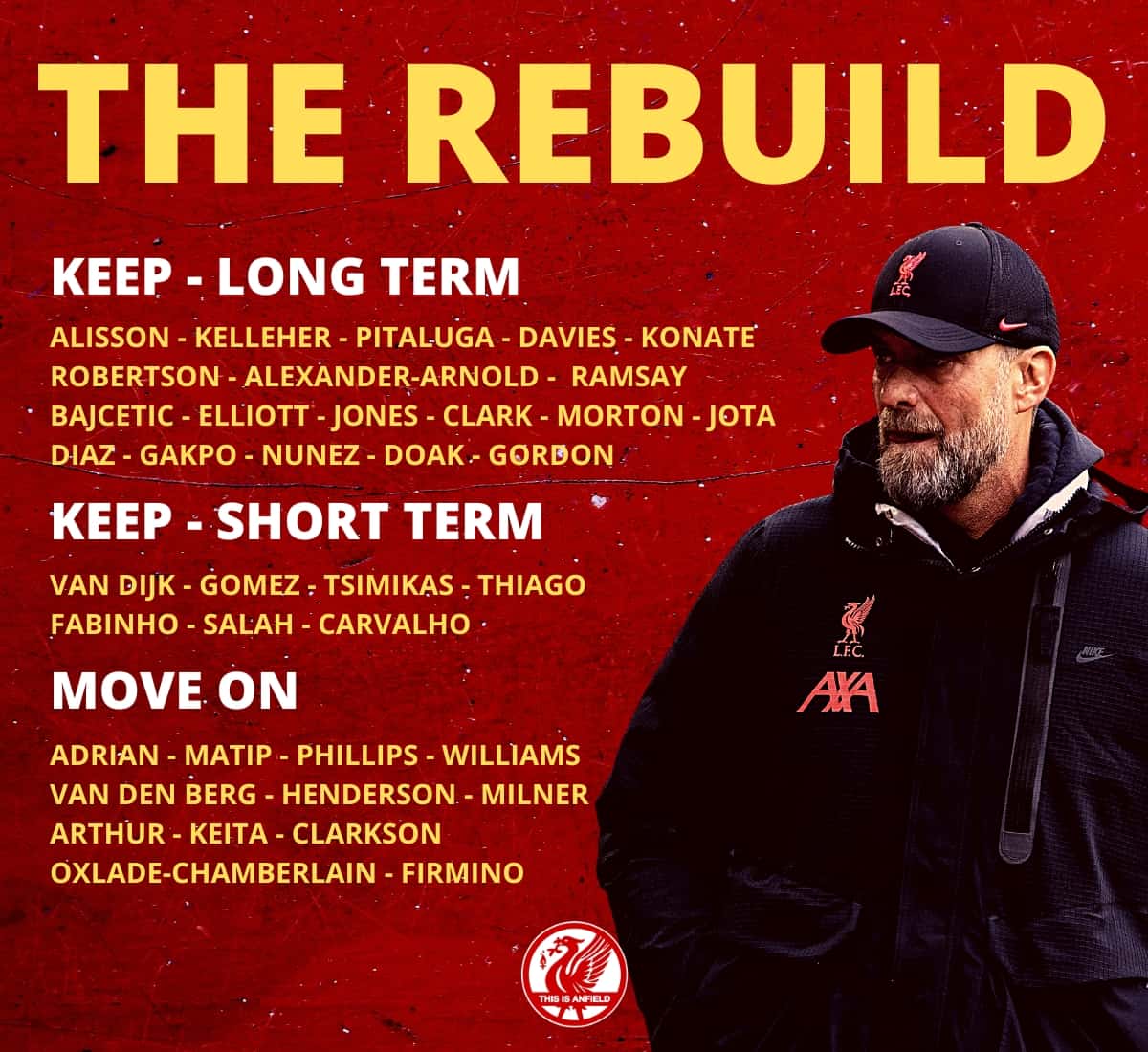 Do you agree with our verdict? Let us know in the comments section!