Liverpool overtook Manchester United and took third place in the Deloitte Money League ranking, while their expenses in the four-fold pursuit of them are not bad.
Deloitte Money League is a comprehensive financial analysis of the clubs with the highest incomes in world football, which examines income, expenses and portfolio.
Under the management of Fenway Sports Group, Liverpool has steadily moved up the table, and in the 2021/22 season it rose above Manchester United for the first time and took third place.
The club earned 701.7 million euros (~594.3 million pounds) during the season, during which they reached three finals and reached the last day in the race for the Premier League title.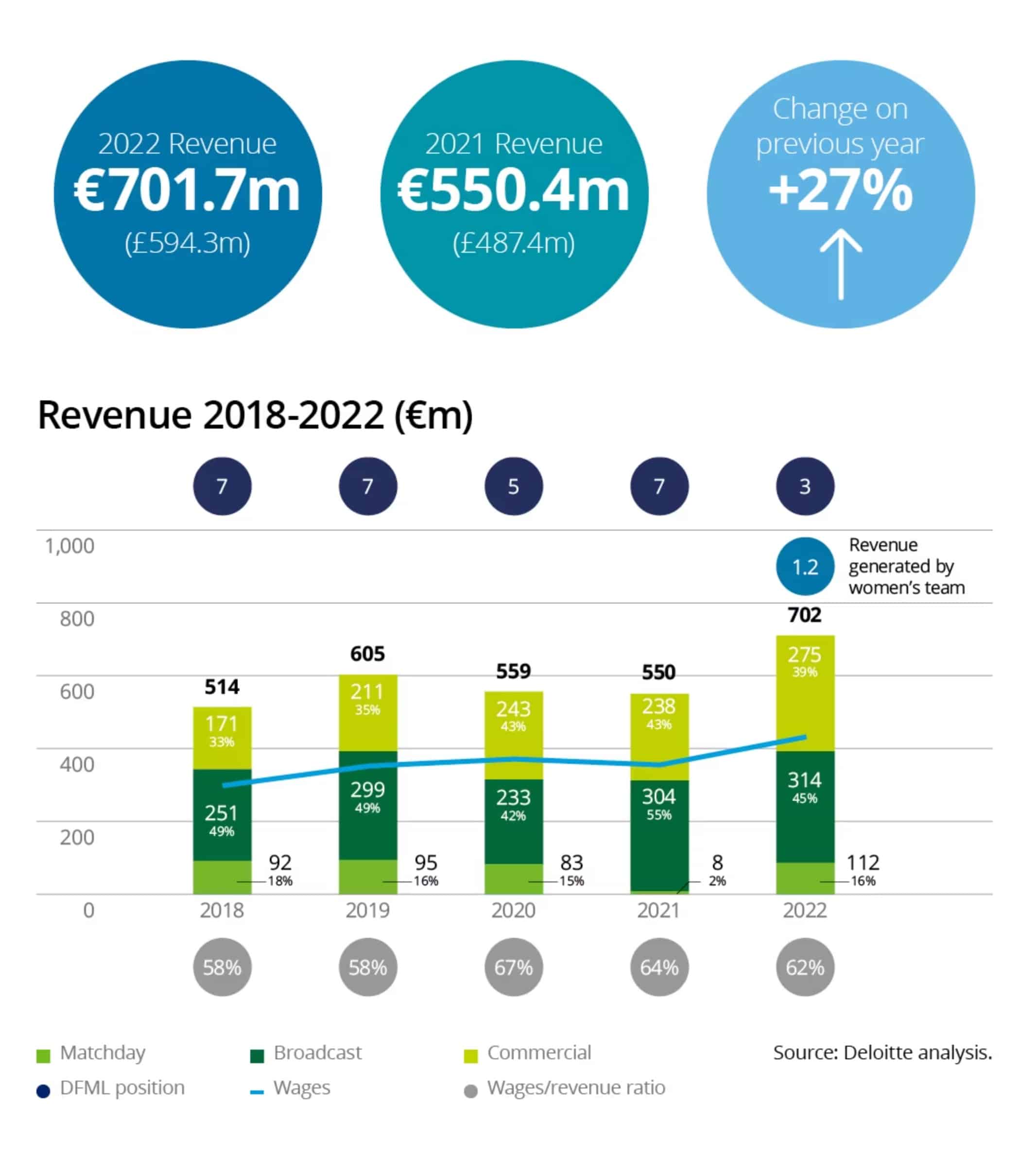 This makes them the most active players in the top 20, finishing seventh in the 2020/21 season, and they are one of five clubs whose revenue from playing days exceeds 100 million euros.
Liverpool is also projected to see a sharp increase in match revenue when the expansion of the Anfield Road End stadium is completed by the 2023/24 season.
Deloitte Money League's 10 Biggest Revenues in 2023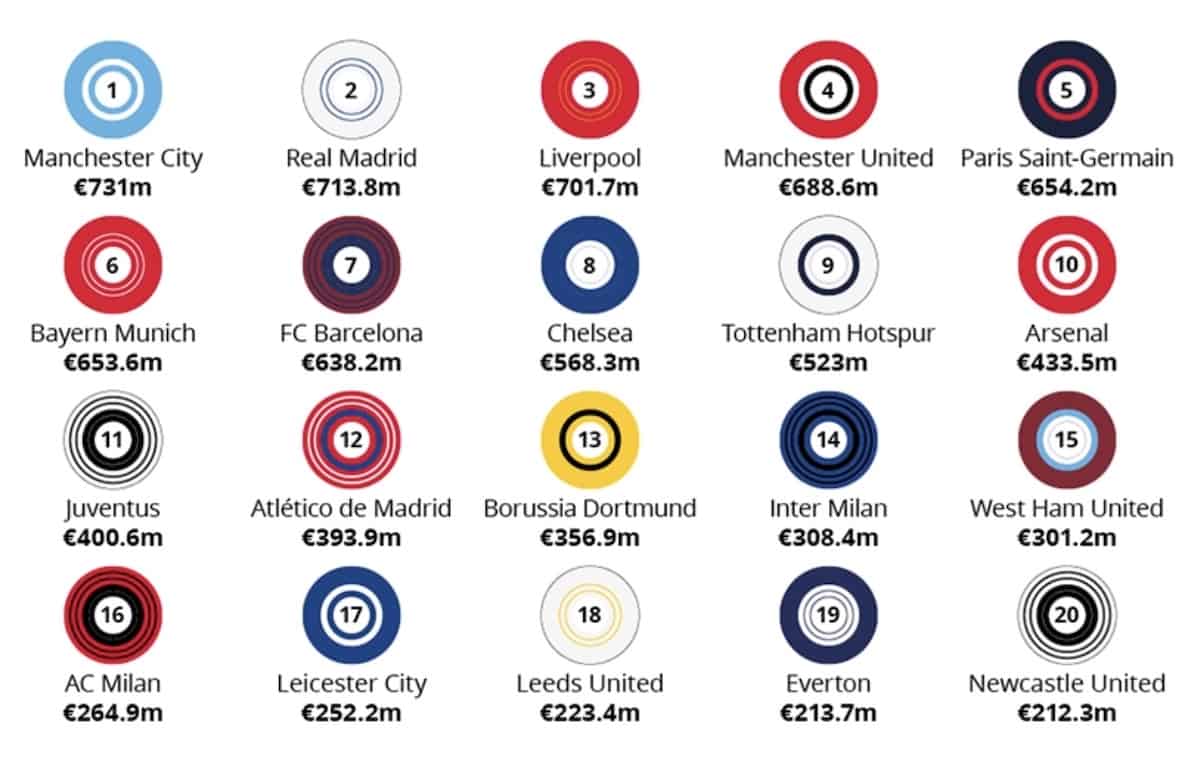 1. Man City – €731m
2. Real Madrid €713.8m
3. Liverpool €701.7m
4. Man United €688.6m
5. PSG – €654.2m
6. Bayern Munich – €653.6m
7. Barcelona – €638.2m
8. Chelsea – €568.3m
9. Tottenham – €523m
10. Arsenal – €433.5m
The club received 112 million euros (16%) from match revenue, 314 million euros (45%) from broadcast revenue and 275 million euros (39%) from commercial revenue.
It is claimed that Manchester City has set a new Premier League record for commercial revenue growth by 65 million euros (up to 373 million euros).
Of the top 10, only Tottenham (+29%) showed a higher percentage increase in total revenue compared to the previous season than Liverpool (+27%), and West Ham (+36%) became the only other club with a more significant increase in revenue. top 20.
However, perhaps the most interesting story has to do with the ratio of wages and incomes of clubs around the world.
Liverpool, whose contracts are heavily incentivized, paid 62 percent of their total income in wages worth 368.5 million pounds.
Although this may seem like a significant amount, only five clubs from the top 20 of the Deloitte Money League ranking paid a lower percentage of wages in relation to their income.
These are Tottenham (47%), West Ham (53%), Bayern Munich (53%), Man City (57%) and Arsenal (58%).
Players such as Everton (96%), Inter (82%) and Leicester (85%) pay a significantly higher percentage, while Paris Saint-Germain allocates a staggering 111% of their income to wages.
How much of their income each club spent on wages
1. Man City – 57%
2. Real Madrid – 73%
3. Liverpool – 62%
4. Man United – 66%
5. PSG – 111%
6. Bayern Munich – 53%
7. Barcelona – 73%
8. Chelsea – 71%
9. Tottenham – 47%
10. Arsenal – 58%
11. Juventus – 84%
12. Atletico Madrid – 65%
13. Dortmund – 65%
14. Inter Milan – 82%
15. West Ham – 53%
16. AC Milan – 64%
17. Leicester – 85%
18. Leeds – 64%
19. Everton – 96%
20. Newcastle – 95%
This happened in the season when they signed Lionel Messi from Barcelona to play alongside Kylian Mbappe and Neymar.
As already mentioned, Liverpool's salary structure is highly motivated, so the player's earnings are tied to both individual and club success.
Given that Jurgen Klopp's team played in 63 games last season, won the FA Cup and the Champions League Cup, finished second in the Premier League and reached the Champions League final, these salaries would have increased significantly.
This only shows, perhaps contrary to current opinion, how well the club is run as a business, and the scale of the work Klopp is doing.
However, this does not mean that FSG are infallible — it's just that those who hope for a Qatari takeover a la PSG may not take into account the interests of the club in the long term.