On Saturday afternoon, there was a sharp and unrelenting cold at Anfield, which was not quite balanced by the fact that there was not much heat in the game on the field.
One step forward in the game with Wolverhampton in the FA Cup and one step away from Chelsea in the Premier League match, which to the naked eye suspiciously resembled a pompous zero stalemate in the middle of the table.
Eighth position, ten points behind a place in the Champions League, falling behind such luminaries as Fulham and Brighton, the absence of our alpha central defender, working without an excess of attacking talent and too many players fighting for stability in the middle of our Premier League campaign and we can only hope that it will turn out to be a season of two halves.
Inconsistency continues to dominate the Liverpool landscape. 19 league games and we haven't been able to win three more games than we've won, and if you take the mirage of a 9-0 win over Bournemouth out of our results list, then our goal difference will remain at an unimpressive 0.
If Jurgen Klopp and his team were handed an interim school report, the synopsis might not quite threaten the "see you later" territory, but it would undoubtedly fall into the "need to do better" category.
It wasn't that Liverpool made a lot of mistakes on Saturday and, to be honest, mistakes were held in high esteem, but there was a clear lack of convincing forward movement.
Liverpool's conservative approach
It was a safe approach, but I understand why. Just one point now out of the last nine available to us, and confidence is still something to restore, not to put on the line.
We worked hard on the pitch against Chelsea and it was wonderful to see how James Milner, Stefan Baisetic and Naby Keita were rewarded for their efforts at Molineux in midweek, relying on Klopp's insistence that he is not too loyal to other players.
A simpler, safer and more predictable option would be to bring Trent Alexander-Arnold (although he was injured), Fabinho and Jordan Henderson back into his squad this time.
While Milner can no longer challenge his age, and Keita's future certainly lies outside Anfield, Baisetic is not playing as well as he can, on Saturday he will take a huge step forward in his development. A game in which he started impressively before he was increasingly held back by the yellow card he received, noticeably becoming more restrained in the interventions he would have made if he had not been afraid of a second yellow card. As the learning curves go, it was invaluable to him.
The choice of Baixetich ahead of Fabinho was a clear confirmation of his potential and abilities, and also served as a clear signal to the Brazilian that he needs to return to the peak performances of his past in order to repel the threat of the Spanish teenager.
In a world where we crave recruits in midfield, it's worth celebrating that we already have one component that can play an integral part of this long-awaited upgrade.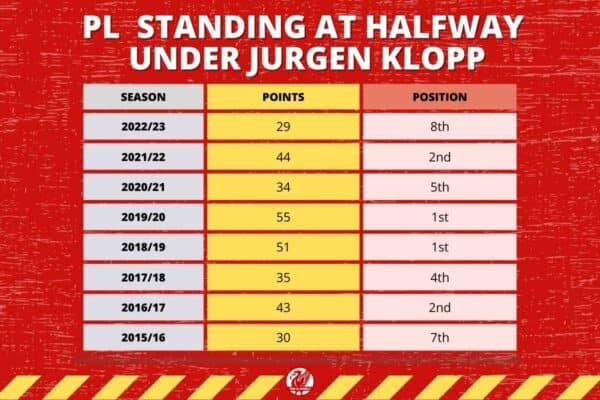 The second half of the season
When the second half of our Premier League campaign begins (well, in two weeks – again against Wolves), you can console yourself from the enveloping cold.
Of the ten games we will face on our travels, only three or maybe two of them will be against teams that have league titles or Champions League aspirations behind them; Newcastle, Manchester City and Chelsea.
Meanwhile, at Anfield, we will host Manchester United, Arsenal and Tottenham, as well as the Merseyside Derby, for our toughest tests.
The visit of the bouncing Fulham and on the way to the last teams of the season, Brentford and Aston Villa, who four months before the end will look at the standings and feel that European qualification is not quite for them, although I would not, I do not bet that these dreams will dissipate by then the time when May comes.
By no means in a pleasant situation at the turn of the league season, Liverpool's fate can still be shaped in their own hands.
Klopp described Saturday as a small step forward, but we will need to start taking big steps forward if we want to bridge the widening gap and reach the top four. We are a team that can come together as abruptly as we can lock ourselves in the opposite direction, and we will need to come together pretty quickly.
Currently, three of our next four league matches are away and we only have one home league game this part of March, it's the Merseyside derby, which, as you know all too well, probably has a 0-0 score. . No matter how terrible our blue cousins are, you just know they will arrive at Anfield with Sean Dyche as their newly appointed manager.
In addition, our next guests will be the team from Old Trafford. They represent two opponents who have invested heavily in our suffering.
Now, faced with a two-week break in the league, Liverpool have a lot of time to think, just at the moment when we risk thinking too much about our predicament.
On the one hand, we need to play football one game at a time, but on the other hand, we cannot ignore the bigger picture.