There were many unforgettable games in Liverpool's game with Chelsea (0-0), but at least some defenders made an impression.
The Reds were able to play a low-quality stalemate with the Blues only on Saturday, as a result of which there was nothing good for either team.
Windy conditions did not help the competition in terms of entertainment, and neither side did enough to justify all three points.
Here we compare our player ratings with those of Liverpool Echo, WhoScored, FotMob and This Is Anfield readers.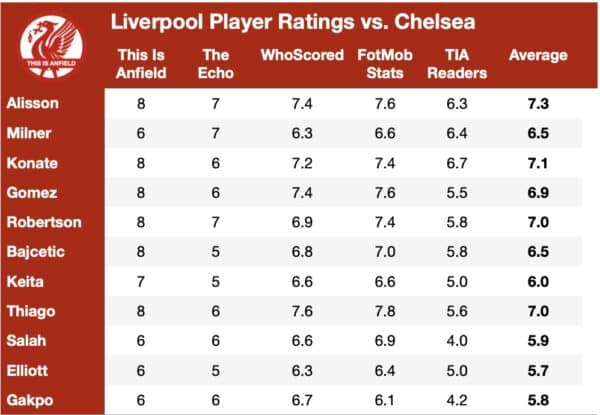 It is not surprising that Alisson (7,3) became the Liverpool player with the highest rating on the day when he played for zero in the league for the first time since October.
With the exception of one shin injury, the Brazilian behaved flawlessly all day, and his decisions were also accurate.
TIA's Mark Delgado hailed Alisson's one "brilliant" save in the first half, and also said he "quickly got off his line."
The next in the standings was Ibrahima Konate (7,1), who showed himself confidently and physically at Anfield.
According to Ian Doyle of Echo, the 23-year-old was "solid" against Chelsea, and FotMob noted that he made five takeaways of the ball and four interceptions.
Andy Robertson (7.0) and Thiago (7.0) shared the third place — this pair, of course, were the two most influential players of the Reds.
Delgado said the former's "sharp runs" at times made him "the only real outlet," and Doyle said the latter "sought to add pace to the play."
There were some disappointing Liverpool performances on an extremely disappointing day and Harvey Elliott (5.7) got the lowest scoring average.
The 19-year-old started from an unfamiliar position on the left before moving into midfield, and he, like many others, struggled to create chances and made just three assists in the last third.
The next one for Liverpool will be the fourth round of the FA Cup in Brighton next Sunday (13:30, Great Britain).