Erik ten Hag has identified the key strength of Arsenal's successful season and has been preparing Manchester United for it in training this week.
This is reported by The Mirror, which reports that the Dutchman focused on pressing Arsenal ahead of today's match.
It is not surprising that this is the case, given that Arsenal have achieved so much control in a number of matches this season thanks to the engineering capabilities of counterpressing to keep the opponent in their defensive third.
The perfect example was earlier this month during the 0-0 draw with Newcastle United. A bad ending led many to see that the Gunners lost two points in this match, but this was also a match in which Mikel Arteta's game plan gave his team every opportunity to win.
Arsenal achieved 66.8% possession of the ball mainly due to forced errors by Eddie Howe immediately after the passes. Newcastle lost 28% of all their passes during the match, often after winning possession of the ball. They were forced to make a whopping 29 takeaways per match, which is significantly higher than the league average (18.5 per game).
A key factor in Arsenal's successful counterpressing is their possession structure. Arteta usually builds his team according to the 3-2-5 scheme, which is facilitated by the atypical position of Alexander Zinchenko.
Although the Ukrainian starts Arsenal as a left—back, the huge difference between Arsenal this season and last is that Zinchenko — unlike his predecessors in this position – often goes into midfield when Arsenal have the ball, joining the defensive midfielder Thomas Parti.
The 3-2-5 formation is not the most irregular shape in football by any stretch, but what makes the Arsenal version so effective in countering pressure is the players represented in the "2". In the person of Zinchenko and Partey, Arteta has two players who are not only comfortably positioned in the central zones, but also know how to jump out, exerting pressure at speed.
In the image below, Arsenal are playing in a 3-2-5 formation against the defending team. The Gunners more or less retain this form throughout the entire possession phase due to the fact that this gives Zinchenko and Partey access in case of loss of the ball.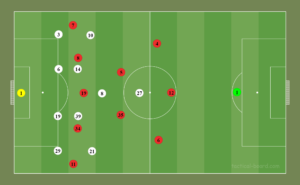 Please note that any attempt to counterattack through the center is likely to be suppressed quite easily, since both Zinchenko and Partey have immediate access to any player in the central third. Wide balls still give access to one of the aforementioned pairs, and the wide member of the "3" line also has good positions to provide protection. Arsenal's attacking "five" also often come quickly and provide support — this team spirit has been the driving force behind their unexpected title fight this season.
Manchester United have been happy to play at half-time when it suited them this season and they will almost certainly want to do it again at the Emirates Stadium. Given the complexity of the attack through Arsenal's central platform, it is likely that United will seek to make quick passes to the flanking zones, away from Partey and Zinchenko, Arsenal's most effective pressing unit. The goal is likely to be to isolate Ben White and Gabriel Magalhaine one-on-one against United's wingers.
Marcus Rashford, in particular, is exceptional in such situations, having the speed to beat a defender before the support comes. Although Anthony is likely to start — and scored in the reverse match — this season he has not been too actively involved in counterattacks, often relying on delayed play and long-range shots to influence the game.
Alejandro Garnacho, who has just come off the bench, could be another key player in this match. His direct style of play is very suitable for United in games where you need to rely on quick transitions. Given that Gabriel has not been looking very comfortable lately, isolating him on United's right flank may also be a more fruitful task, so it will be interesting to see how Anthony is doing.