Too many Liverpool players were bad after a miserable 3-1 defeat to Brentford, as the same old problems again hampered the Reds.
On a terrible evening in west London, Jurgen Klopp's men fell behind after Ibrahima Konate's goal, and from that moment they never recovered.
Ioan Vissa doubled Brentford's lead before half—time — two goals were also ruled out thanks to VAR – in an awful 45 minutes.
After the break, Alex Oxlade-Chamberlain and Brian Mbeumo exchanged goals on a day when there were too many negative moments to mention.
Here we compare our player ratings with those of Liverpool Echo, WhoScored, FotMob and This Is Anfield readers.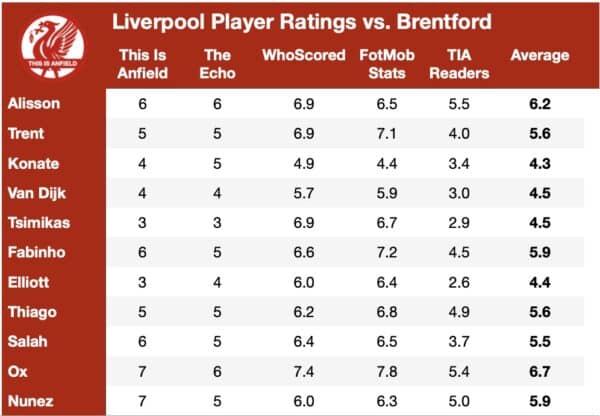 Unfortunately, it was a day when it was necessary to focus on the worst Liverpool players rather than the best, as many struggled to cope with an inspired Brentford team.
Konate (4,3) had a terrible evening for the Reds, he not only scored a goal in his own goal, but also lost the ball due to Mbeumo's strike.
The Frenchman received the lowest average rating, which may have been one of the worst results for Liverpool.
Jack Lasby of TIA believes Konate was "too weak" for the third goal, adding that it was a "difficult night" for him in his first game after the World Cup.
Next up was Harvey Elliott (4,4), who is currently struggling to provide control and defensive work in Liverpool's midfield.
Echo's Ian Doyle lamented the 19-year-old's "bad mistake" in the second goal, as he created an unnecessary dummy in the danger zone.
Virgil van Dijk (4.5) and Kostas Tsimikas (4.5) were considered the third worst players together, with both of them being substituted at half-time.
Lasby criticized the former for "sleepwalking" before Klopp removed him, while FotMob pointed out that the latter did not win tackles.
On a more positive note, Oxlade-Chamberlain (6,7) scored a successful header and got the highest score, but even he was far from stunning.
Liverpool's next assignment will be the FA Cup third round clash with Wolverhampton at Anfield on Saturday (20:00 UK time).